Full-Service Chiropractic Services in Buffalo, MO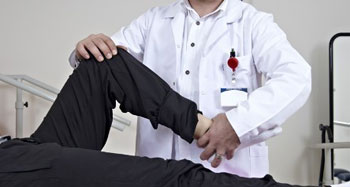 Dugas Chiropractic & Acupuncture offers several chiropractic services in Buffalo, Missouri as alternatives to invasive medicine and drug therapy.
Decompression
Spinal decompression therapy uses a traction table to stretch the spine and relieve back and leg pain. This treatment is nonsurgical, which translates to faster recovery time and lower risk of side effects. Our experienced chiropractors will provide solutions for your spinal disc and other back pain through traction and decompression therapy.
Electrical Stimulation
This treatment technique uses electrical current to activate nerves that have been affected by paralysis as a result of a spinal cord injury, stroke, head injury, or other neurological disorder. An innovative industry game-changer, electrical stimulation has successfully restored mobility for patients who may have otherwise ran out of options. Dugas Chiropractic & Acupuncture will consult with you to help you decide if electrical stimulation will be beneficial for you.
Interferential Therapy
Dugas Chiropractic & Acupuncture's interferential therapy services in Buffalo, Missouri are some of the best in the industry. This treatment uses advanced electrical stimulation of nerves while avoiding the painful, unpleasant side effects associated with low-frequency stimulation. This therapy can improve incontinence, pelvic floor weakness, constipation, and the symptoms of fibromyalgia.
Intersegmental Traction
Intersegmental traction induces motion into the spine. Lying on a table, we use three rollers that rotate from head to toe to put gentle pressure on your spine. Benefits of this treatment include improved circulation of spinal fluid, which nurtures the spinal cord. For innovative, non-invasive pain relief, contact Dugas Chiropractic & Acupuncture to learn more about whether this treatment is a fit for your needs.
Therapeutic Ultrasound
Our chiropractic office uses therapeutic ultrasound to effectively treat soft tissue lesions, one of the most common rheumatic complaints. Ultrasound technology consists of inaudible, high-frequency mechanical vibrations provides by a generator that produces electrical energy. These vibrations work to relieve pain, diagnosis of unhealthy tissue, and speed healing of joints, muscles, and tendons.
Super Pulsed Therapeutic Laser
We also use a super pulsed therapeutic laser, which uses an extremely versatile technology with light probe capabilities. This laser is used in acupuncture, muscle triggering, and other stimulation applications. Our doctors will find the right combination of natural healing techniques to take your body from painful to pain-free.
Call or stop in today to find out how our Buffalo chiropractic office can help relieve your pain and improve your health.